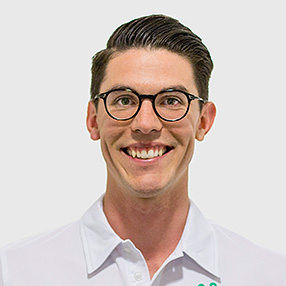 Qualifications:
HCPC
CSP
Bachelor of Physiotherapy (University of Otago, New Zealand)
Dry Needling
Certificate in Orthopaedic Manual Therapy
Post-graduate Certificate in Vocational Rehabilitation
Favourite things to treat:
Foot, ankle, and knee injuries; pre- and post-operative rehabilitation; spinal injuries; longstanding pain conditions; postural imbalances.
Bio:
Registered with the Health and Care Professions Council.
A graduate of the University of Otago, Josh started his career in a busy suburban clinic in Wellington, NZ.
He gained invaluable experience treating a wide range of musculoskeletal conditions and supporting high level sports people back to competition, before making a career s move to enable him to focus on pain management and vocational rehabilitation services. This required him to use a different set of skills, delving deeper into the underlying psychosocial components of a patient's pain, and working within a team to deliver the best possible outcome for each one.
Josh has also been the Physio for several amateur sports teams – particularly rugby teams – and enjoys the challenge of working alongside players and coaches in a fast moving and high-pressure environment.
Josh uses a wide variety of techniques in order to meet each patient's individual needs, combining manual and hands-on treatment with exercise-based rehabilitation and evidence-based education. Rather than simply managing a patient's symptoms, his goal is always to address the underlying causes – achieved through a thorough assessment of the whole body system and all contributing factors.
For Josh, the ability to make a real difference in people's lives remains most rewarding part of his work. He aims to help each patient achieve the goals most relevant to them, whether that's around high performance sport, the ability to exercise for their own enjoyment, or simply to move more actively, freely and without pain or impingement in day-to-day life.
Josh moved to London in April 2018 with his wife (also a Physiotherapist at Ten) and is looking forward to exploring more of the UK and Europe.