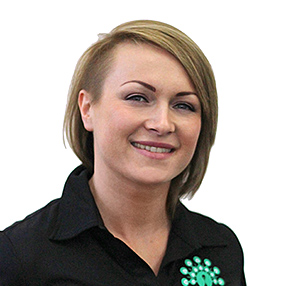 "When you feel like quitting, think about why you started"
Qualifications:
TenAcademy
Total Gym- Gravity and Gravity Pilates 2012
Rip 60 2012
Les Mills: Body Attack, Body Balance, Body Pump, CX WORX 2012-2014
Tony Quinn Sales Course, Paradise Island, Bahamas Nov 2007
Fitness Trainer Certificate, Academy of Sport and Recreation, Poland 2003 – 2006
Comprehensive School Certificate, Biological-Chemical Profile, Poland 1999-2003
Classes:
Favourite Exercise:
Pike
Bio:
Originally from Poland, Kasia has been passionate about health, nutrition and exercise since she was in her early teens. As an 11 year-old girl she joined the Polish Olympic Handball Team and played until High School, where she moved to Sprinting and Weight Training.
Graduating from AWFiS in Poland in 2006 with a Fitness Degree, her passion became a career, and her determination to share her knowledge, enthusiasm and insights with others became a life goal – one which she continues to pursue today.
The next stage in her career involved a move to Ireland, where she spent the following 9 years improving and enhancing her skills and adding to her portfolio of qualifications. Kasia is a highly experienced Trainer, specializing in Weight Management, Body Weight and Resistance Training, Functional Training, Conditioning and HIIT.
Kasia has dealt with clients off all ages and abilities, from professional athletes, semi-pro bodybuilders and fitness models to sedentary office workers, busy mums and seniors. With a determinedly results-driven approach, she uses variety of tried and tested training protocols to burn fat, build strength, improve muscle tone, flexibility and core strength.
Kasia combines her breadth of training and exercise skills and insights with a holistic approach. As she puts it, her unique style allows her clients to "discover their own wisdom and find lasting freedom in their relationship with food and body".