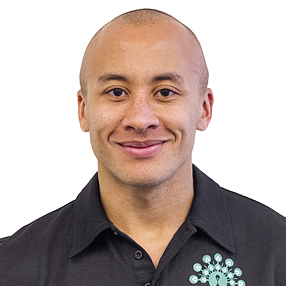 "Reach for the stars, but start with a vision"
Qualifications:
Level 3 Personal Trainer
Bronze Award England Boxing Coach
Classes:
Favourite Exercise:
Dumbbell Thrusters
Bio:
Kenny has competed in sports since primary school in his home town of Brighton.
Although he has always made it a priority to stay fit and to participate in and enjoy exercise, it was only when he moved to Vietnam and stopped drinking and smoking that his approach to life became a vocation.
Having worked as a teacher in Vietnam for 9 months Kenny relocated to London, committing to the decision to pursue his childhood dream of becoming a stuntman.
Three years later he has a black belt in Judo and qualifications in Boxing, Rock Climbing, Scuba Diving and Swimming. His next challenge is to pass a high diving exam and then he will be signed off and qualified to set himself on fire and fall from high buildings!
Kenny believes that the proven classic training routines and styles are still the best way to achieve results effectively and safely, but considers that there is always room for a new classic! So he is always exploring innovative and exciting ways to enhance his clients' programmes and help his clients get, and keep, fit.
Kenny embraced the opportunity to join the Ten team to help him develop and adapt his training methods, as well as to help clients with injuries and expand his own knowledge.
He enjoys participating in other trainers' classes, and very much looks forward to meeting you in his.
Kenny loves cats, horses and pizza. But not necessarily in that order.