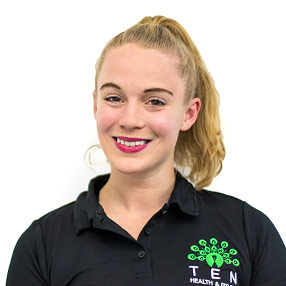 "Movement is REWARD, not retribution"
Qualifications:
STOTT Matwork Pilates Instructor
ISTD Licentiate Imperial Classical Ballet Teacher
ISTD Licentiate Modern Theatre Dance Teacher
ISTD Associate Tap Dance Teacher
ISTD Associate Street Dance Teacher
Progressive Ballet Technique Training Coaching
Dance Fitness Instructor
Flexibilty Coach
Ten Academy
Classes:
Favourite Exercise:
Plank and Plank Variations.
Bio:
Cape Town born and bred, Kerryn's first love was ballet. She started training aged 5, and has been involved with dance ever since. Her experience across many different genres of dance – she's a highly qualified Ballet, Modern, Tap and Street Dance teacher – has taught her how important overall physical fitness is.
Kerryn has always had a keen interest in anatomy and how the body should function optimally, inspiring her to train as a Pilates Instructor as well as to explore Progressive Ballet Technique training.
A firm believer that physical health and wellbeing should be accessible to all, regardless of their occupation, age or athletic capability, Kerryn loves working with clients from all walks of life to help them enhance their flexibility and strength. (But given her background, it's probably no surprise that she particularly enjoys training dancers of any genre.)
Like most dancers she has experienced her fair share of injuries – including hip surgeries – and as a result, has a keen understanding of the need for rehab and rehab, and is passionate about helping her clients identify strengths and weaknesses in their body and address them effectively and safely through exercise.
She loves to share her knowledge with clients, so that they too have a greater understanding of their bodies and their potential.
When she's not in the studio, she's most likely to be running or scouring London for new ice cream spots. She's also a massive fan of the arts and she loves to dance, write and enjoy theatre.