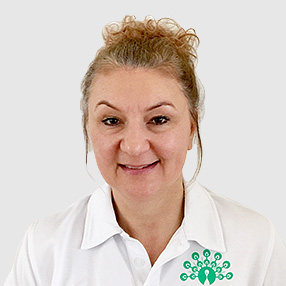 Qualifications:
Cert. Therapeutic (Holistic) Massage 1998 (Aust)
Cert. Remedial Massage 1999 (Aust)
Cert. iii Personal Trainer (Aust)
NLP (UK)
Reiki 1 and 2000 (Aust)
Swedish Massage
Deep Tissue
Sports Massage
Pregnancy Massage
Favourite things to treat:
Anything and everything – Krenoula likes a challenge, and there's no area of the body she won't tackle.
Bio:
Trained in paramedical and holistic massage practice at the Southern School of Natural Medicine in Melbourne – one of the best-regarded Schools in its field – Krenoula has been a practicing massage therapist since 1998.
A highly qualified and accredited Senior Massage Therapist, Krenoula is also a powerful and gifted Reiki healer. In combination, this enables her to work intuitively with healing hands, while also exercising a rage of evidence based practices including deep tissue massage, Shiatsu, myofascial release, PNF stretches, postural correction, mobilisation and pre/post natal massage amongst others. Her ability to accurately assess your condition enables her to treat the cause of your condition rather than just your symptoms, making her treatments long standing.
Committed not just to easing muscle tightness and pain but also to rejuvenating mind body and soul, Krenoula treats clients of all ages and from all walks of life, including elite athletes, mums, office workers, people recovering from surgery, referrals from physiotherapists and clinicians and those who are more fragile physically and mentally. She also has a keen interest in stress management and understands the destructive impact of stress on the body and mind in our fast-paced and time-poor modern lives.
Krenoula is committed not just to easing muscular tightness and pain but also to rejuvenating the body, mind and soul. And through a depth of experience and understanding of how the body moves and what muscles are involved in a particular action, an ability to isolate affected muscles, and a thorough understanding of a client's clinical history, Krenoula believes that the correct treatment presents itself.
Having worked with doctors in Sport Medicine clinics, Physiotherapists, Osteopaths, yoga and Pilates teachers and personal Trainers, Krenoula is also highly experienced at embedding massage therapy into a wider training or rehabilitation strategy and circle of care. She also has a keen interest in nutrition and diet and is a committed advocate for the healing powers of supplements and herbs
Krenoula's treatments will restore greater range of movement and function to your body while also eliminating your pain and harmful toxins. Her style of massage can also rejuvenate your lymphatic system and drive blood flow to your muscles repairing, tendons, ligaments and connective tissue.
Having practiced for more than19 years, Krenoula has amassed a wealth of knowledge and practical, hands-on experience that has been invaluable to her clients. She will share this knowledge, and her insights to educate you about your condition. She believes in empowering you in your own healing process, which she is convinced, delivers better and longer lasting results.
When Krenoula isn't treating clients, you will find her in the gym doing yoga, Pilates or spin classes or spending social time with family and friends. She also enjoys adventure sports, travelling, hiking in nature and photography.