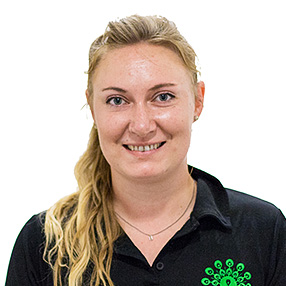 "Your body is the greatest instrument you will ever own, so treat it well"
Qualifications:
Level 2 fitness instructor
Level 3 personal training
Indoor cycling
Ten Academy
Classes:
Favourite Exercise:
Squats – works so much more than just the glutes
Bio:
Originally from Zimbabwe, Lara has played sports all her life – she represented her country in swimming and used to be a marathon runner.
It's essential to Lara that she loves what she does for a living. So having been active all her life, and with a limitless passion for fitness and helping people, Lara soon came to realise that a career in the fitness industry was the only option for her. (Even if it took a brief spell in hotel management to prove it!)
She has worked as a trainer for the past 5 years, teaching spin and as a PT, primarily working with clients in recovery and rehabilitation – everything from cycle injuries to strokes and pre/post operative preparation and recovery before and after brain tumour surgery.
Introduced to Dynamic Reformer Pilates, she instantly fell in love with it, finding it the perfect discipline for her particular approach to training – she prides herself on her calm, caring approach combined with a clear understanding of when, how and how far to push her clients to help them get the maximum benefit from their sessions.
In her spare time, you'll find Lara out running, attending spin classes and checking out other trainers' Dynamic Reformer Pilates classes.