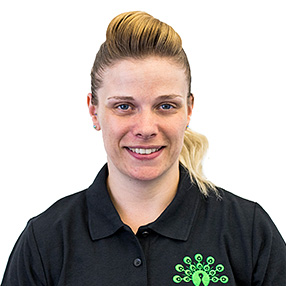 I hated every minute of training, but I said, 'Don't quit. Suffer now and live the rest of your life as a champion." – Muhammad Ali
Qualifications:
TenAcademy
LAO level 3 diploma in personal training and business planning
LAO Level 3 in Adapting Exercise for Ante and Post Natal Exercise
LAO Level 3 in Adapting Exercise for Older Adults
Level 3 Award in Education and Training
RYS 200 Hour Yoga Teacher Training
Energy Anatomy Diploma
Kettlebell Instructor
Group Training
Group Studio Cycling
Les Mills BodyCombat, BodyBalance, Barre
Classes:
Bio:
Lauren has a background in multiple martial art disciplines, including boxing, karate and MMA.
Martial arts practice comes with a high risk of injury and when Lauren damaged her knee in 2013, she found herself unable to train, and gaining weight. The excess weight, in turn, put pressure on her lower back, and with the ensuing pain and further loss of mobility she decided it was time her to change her diet, and learn to understand her body better.
Gaining her Personal Training Diploma, Lauren joined the fitness industry full time in 2014 with the aim of helping other people achieve their goals – and along the way, help herself achieve her own goals. (One of which was to lose the 15k she'd gained whilst injured – which she has done and maintained ever since.)
One of Lauren's favourite quotes is 'a smile is the shortest distance between two people' and she always aims to bring a balance of serious fitness with a fun element. Given her own fitness journey she loves to help clients to achieve their own weight loss goals but she also has a particular interest in pre and post natal exercise, padwork and also likes to work on a holistic level.
Always wanting to increase her knowledge and skillset, she discovered Reformer Pilates through Ten, and quickly fell in love with its ability to help clients tune into their bodies and feel the muscles engage, strengthen and lengthen in ways they have not done before.
Lauren also manages Ten's Notting Hill Studio.