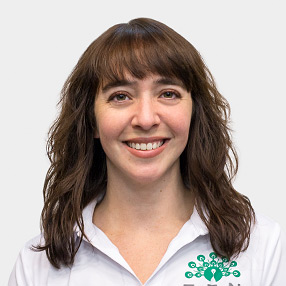 Qualifications:
MSc Physiotherapy
MSc Dance Medicine and Science/Performance Psychology
BA Cognitive Science, BA Dance
Member of CSP
Registered with HCPC
Licensed with OTPTAT
Professional member of 'Physios in Sport'
Healthcare Practitioner Member of OneDance UK
Favourite things to treat:
Performing arts and sport injury prevention and rehabilitation
Hypermobility
Low back pain
Joint Instability
Lower limb
Lauren's journey into physiotherapy began in 2012, during which time she studied for her first Master's degree in Dance Science and Sport & Exercise Psychology, all while assisting the lead physiotherapist for a professional ballet company. After graduating with her second, an MSc in Physiotherapy, she began working within the NHS, specialising in musculoskeletal physiotherapy.
During this time, Lauren developed her experience in treating a myriad of conditions through her work as a freelance physiotherapist with Scottish Ballet, a first aider with a youth football club, and a part-time physiotherapist in a private practice specialising in back pain. With a thirst for knowledge, she has also attended conferences worldwide – from the USA to Japan – in order to enhance her insight into physiotherapy for diverse athletes and performers.
Lauren also has extensive training in multiple dance forms including ballet, contemporary, hip hop, Argentine tango, swing, blues, and salsa. This, combined with a broad educational background, has given her a heightened understanding of the physical and psychological impacts of high performance demands on the human body.
As a result, Lauren's special interests lie within injury prevention and rehabilitation of performing artists and athletes, but she utilises astute observational skills to thoroughly assess biomechanical disparities and altered movement patterns for all manner of clientele. She also draws on coaching and interpersonal skills to empower individuals of all fitness levels in achieving their goals through personalised treatment programmes and education.
Overall, Lauren aims to use her experience to approach injury prevention and rehabilitation in a more unique, holistic, and meaningful way.