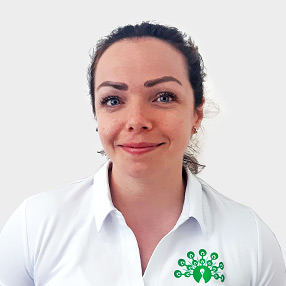 Qualifications:
BSc Physiotherapy
HCPC
CSP
Sports massage and dry needling
British Weightlifting Level 2 Coach
Favourite things to treat:
I particularly enjoy treating sports injuries, strength sport injuries, hypermobility and lower back pain.
Originally from Scotland, Lesley completed her Physiotherapy degree at St George's University of London.
Lesley was first introduced to the world of rehabilitation while injured at the age of 15 as a ballerina which had to progress to surgery. She later progressed to train as an Olympic Weightlifter for Scotland where she sustained multiple injuries allowing for first-hand experience of not just the physical impact of injuries but the psychological.
On graduation, Lesley began work immediately as an NHS musculoskeletal physiotherapist in South London alongside private physiotherapy for strength athletes across London. During the peak of the pandemic, Lesley was redeployed as a non-prescribing nurse in the high dependency respiratory unit. She spent two months expanding her knowledge of both respiratory physiotherapy and medical interventions against COVID-19.
Following the pandemic, Lesley progressed to full time private practice in order to be able to help a wider scope of people with more freedom to use differing modalities and manual therapy to aid pain relief and recovery.
Alongside her work as a physiotherapist, Lesley pursues a passion as a coach in the sport of Olympic Weightlifting. This gives her an awareness of the impact of stress, sleep deprivation and nutrition on all clients. It has also enhanced her ability to teach movements to any level of athlete as well as to develop a respect for the natural variety of a healthy human body.