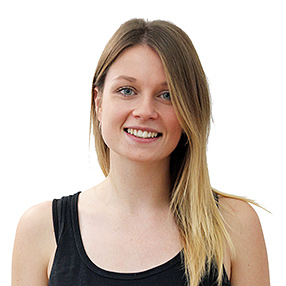 Bio:
Instead of finding barre through a fitness route, Lydia came from a strong contemporary dance background while studying Dance and Culture at the University of Surrey in 2012.
Lydia's credits include performing choreographies at Siobhan Davies Platform, Moving Oxford Platform, Decoda Dance Festival and for Greenwich Dance Agency. She also spent a year as Co-Artistic Director for the university dance company, Actual Size, choreographing and teaching contemporary movement to other students.
Since leaving university, Lydia completed her Performance MA at Chichester University and trained and toured the UK with Mapdance Company while working closely with a number of pioneering choreographers.
When Lydia isn't teaching Barre, she works as a freelance dance teacher in schools around London and Surrey helping children to stay active and to increase their creativity through movement.
Lydia's classes are fun but challenging. Lydia focuses as much on lengthening as strengthening throughout her classes, to help her clients to sculpt and tone their bodies.