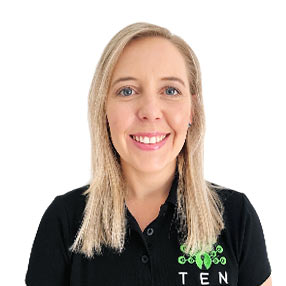 "Exercise is Medicine"
Qualifications:
BA Sport Psychology
BA Honours Biokinetics
Strapit Sportstape
Lynotheraphy
ASA Athletics Coach (middle/long distances running)
Full Body Massage
DRP Reformer Pilates
Favourite Exercise:
Pop Squat and plank series
Born and raised in South Africa with three older brothers, Mandy was introduced to sport at a young age. Her early interest only continued to grow and paved the way for a career.
Mandy completed both an undergraduate degree in BA Sport Psychology and a BA Honours degree in Biokinetics at the University of Johannesburg, South Africa. She then joined a leading South Africa bank as a Biokineticist at their corporate gym, where her role involved training staff members as part of a campaign to improve quality of life for employees.
Once Mandy had a solid foundation of experience in the field, she opened two of her own exercise rehabilitation practices in South Africa covering the orthopaedic and chronic sector. During this time, she had the opportunity to network with some of the greatest healthcare professionals in the industry.
She worked with a range of conditions at both practices. This included the rehabilitation of patients with cancer, lung and heart disease, Parkinson's disease, and strokes. A substantial amount of her time was also spent on post-op orthopaedic rehabilitation. Mandy further distinguished her practice by offering hydrotherapy, exercise-based programs at schools for sports development, and exercise maintenance regimes for the elderly at care homes.
She also has experience training high performance athletes, whether this be to accomplish a specific goal, improve performance or technique, or prevent injuries through education.
Mandy emigrated to the UK and joined the team at Ten and is working as the Senior Clinical Trainer at Notting Hill Gate. She continues to follow her passion for helping people overcome various challenges and making a real difference to their lives through movement and patient education.
Mandy is highly active and motivated, constantly challenging herself to be better. She often competes in endurance events, is a keen cyclist and golfer and loves being outdoors. When she's not on the go, she spends her free time with her family, which includes two adorable beagles. She also loves to travel the world – in fact, it's one of the reasons she moved to the UK.