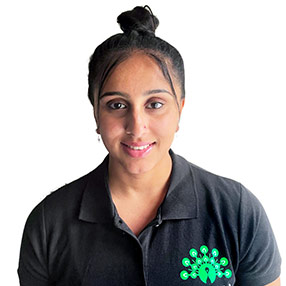 "If it don't challenge you, it won't change you"
Qualifications:
BSc in Sport & Exercise Science
MSc in Clinical & Exercise Science
Level 2 Fitness Instructing
Level 3 Diploma in Exercise referral
Level 4 Specialist Exercise after Stroke Instructor
Level 4 Specialist Postural Stability Instructor
Level 4 Cancer & Exercise Rehabilitation (CanRehab)
BACPR Level 4 Exercise Instructor
Favourite Exercise:
Deadlift
After developing a passion for the body, the mind, and fitness, Manisha decided to pursue her education at the University of Portsmouth, studying for an undergraduate degree in Sport & Exercise Science. Upon completion of this degree, she wanted to gain further knowledge in the clinical sector, so decided to specialise in exercise prescription for various conditions and went on to complete a master's degree in Clinical Exercise Science.
Sport has been a large part of her life from a young age, whether it be recreational, social, or competitive. After taking part in numerous swimming, netball & volleyball tournaments throughout her years, Manisha discovered how beneficial physical activity can be, both physically and mentally.
After her degree, Manisha chose to further her knowledge with a fitness instructing and exercise referral course, where her interest in the exercise field peaked. It was then she decided to specialise in rehabilitation & prescriptive exercise interventions for targeted conditions.
Manisha likes helping others achieve their personal goals and maintain good health, as well as improving fitness. She also abides by the saying "Exercise is Medicine' and is committed to the belief that physically activity promotes optimal health and is integral in the prevention and treatment of many medical conditions.
In her spare time, Manisha can be found in the gym working out, in the kitchen cooking up nutritional meals, and exploring the world.