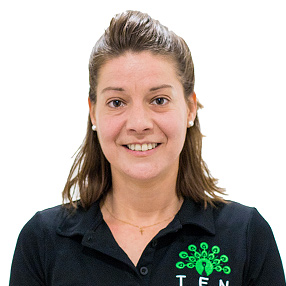 "Yoga is like Music; the rhythm of the Body, the Melody of the mind and the Harmony of the soul create the Symphony of Life" – B.K.S. Yengar
Qualifications:
RYT 500HRS – Alliance Professionals UK
REIKI MASTER LEVEL 3 – REIKI FEDERATION UK
REPS LEVEL 3
Classes:
Favourite yoga pose:
Adho Mukha Vrksasana – Handstand
Tittibhasana – Firefly Pose
Padmasana – Lotus Pose
Bio:
Marisa's life journey brought her closer to Yoga and as she began to experience a deeper inner connection, peace and a way to discover herself, her thirst for knowledge prompted her to pursue Yoga as a means of personal development. She flew to India where she immersed herself in months of meditation and training and decided to become qualified as a Yoga Teacher.
Being amongst world-renowned spiritual leaders, Yoga Masters and great philosophers was a gentle reminder of gratitude and expansion, gifts she was ready to share. Marisa has the ability to inspire and empower you, not only through the gift of Yoga but also as a fully qualified Reiki Master Teacher Level 3.
Her compassionate approach mirrors her restorative Yin Yoga Sessions, open to all levels, whilst her Vinyasa Flow will guide you towards your own inner journey with sweat, laughter and self study (Svādhyāya). All her sessions are designed to promote renewal using Pranayamas (Breathing Techniques) and awareness of the body through a sequence of Asanas (postures).
Experienced teaching privately and publicly, she finds joy in watching the steady progress all make and the greater sense of connectedness that comes with such natural progression. She runs monthly Workshops on numerous subjects involving Yoga as a physical, as well as a spiritual, practice on Yoga philosophy.
She also shares a love for nature, animals, music and dance. Whilst at College, Marisa entered and won several swimming and gymnastic competitions. In her spare time she's not only a PETA member and activist but also enjoys helping to plant trees around London with Trees For Cities.
Unafraid of new experiences and always open at mind and heart you'll often find Marisa Skydiving towards the end of summer months (sunsets are her favourite Dive moment). She looks forward to further grow and learn with all who join her.