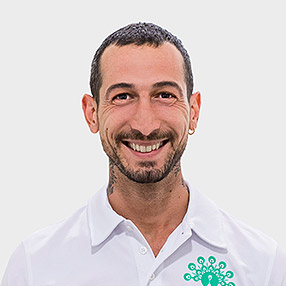 Qualifications:
BTEC Level 5 Diploma in Clinical Sport and Remedial Massage Therapy
Level 4 Advanced Personal Trainer Diploma
Stott Pilates Instructor
Member of the ISRM (Institute of Sport and Remedial Massage)
Diploma in Thai Yoga Massage
Certified NLP and Life Coach
Favourite things to treat:
Back, neck and hips.
Bio:
Having practiced sport from young age, Mauro quickly developed a passion for health and fitness, and subsequently grew his understanding of how the body works through his own experiences. It was this passion that led him to training in football on a professional level, where he learnt just how hard you have work to maintain your physical health to remain competitive.
When he finished school, Mauro moved to England to further his education in the field of physical health. He went on to graduate from the London School of Sports Massage in 2013, and achieved Diplomas in Personal Training and Pilates too.
Since then he has amassed a breadth of experience, including time spent working with a football team to support the players with both sports injuries and sports performance.
He also has experience working closely with Physiotherapists, Osteopaths and Medical Practitioners across the UK, Europe and Australia. During this time, he gained exposure to clients experiencing varying pain and dysfunction, and was able to develop his repertoire of treatment techniques with a 360 approach in mind.
With his combined experiences, Mauro is confident of his ability to support his clients with reaching their goals – whatever they may be – and empower them take control of their bodies and live a better quality of life, both physically and mentally.
Keen to continue his professional development and passion for all things movement, Mauro is currently working towards further Pilates accreditation.