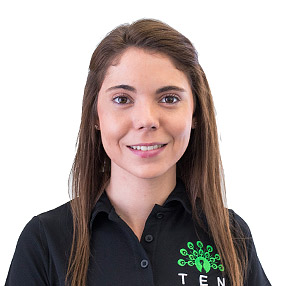 "Your body is capable of some impressive achievements, Embrace it and challenge it!"
Qualifications:
BHSc Honours Biokinetics
BA Sports Psychology
Sports Administration
Theraband CLX
Sports Massage
Ten Dynamic Reformer Pilates
Ten Pre and Postnatal Dynamic Reformer Pilates
Favourite Exercise:
Reverse lunge and oblique pike.
Natacha graduated from the University of the Witwatersrand in South Africa with a Bachelor of Health Science degree with honours in Biokinetics, following a BA Sports Psychology degree from the University of Johannesburg. She was invited to join the Golden Key International Honour Society for academic achievement and has been a member since 2015.
As a Biokineticist, Natacha specialises in using science-based exercise programmes and protocols, focusing on rehabilitation and prescriptive exercise interventions for the health promotion and maintenance of a broad spectrum of conditions, following an individualized assessment. No two people are the same and therefore an assessment is of the utmost importance before designing a rehabilitation programme.
Sports have always been a big part of Natacha's life, having competed from a young age in indoor and outdoor soccer, field hockey, and touch rugby. After suffering a soccer injury, Natacha learned how important the rehabilitation process was, especially when looking at returning to sports and pain free activities of daily living. Working in a multi-disciplinary practice highlights the importance of the circle of care and how important it is to have a holistic approach when treating any injury.
Natacha has worked with people from all walks of life, from postural correction to injury rehabilitation and prevention, chronic diseases to organ transplants, Parkinson's disease to stroke patients, joint replacements to amputees. Helping people is her passion, and she believes that there is nothing more rewarding than seeing someone you have worked with achieve something they didn't think was possible.
Natacha is a kind hearted individual with a passion for improving people's quality of life – she gives each and every client all of her time and effort in order to achieve their personal goals, she has an affinity for sports injuries, orthopedic, chronic and neurological rehabilitation, and enjoys working with individuals of all ages.
In her free time Natacha can be found exploring and eating her way through the streets of London, spending time with family and friends or traveling to new exciting destinations.