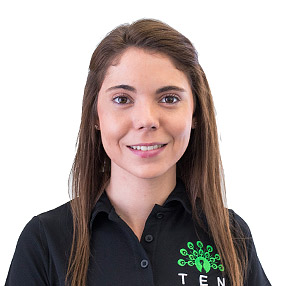 "Your body is capable of some impressive achievements, Embrace it and challenge it!"
Qualifications:
Bachelor of Health Sciences – Honours in Biokinetics
BA Sport Psychology
Sports Administration
First Aid Level 1, 2, AED & Oxygen training
Theraband CLX
Classes:
Favourite Exercise:
Dead Bug and Twisting side plank.
Bio:
Natacha was born and raised in South Africa to a British mother and a Portuguese father. Sport has always been a big part of her life; from childhood she competed in indoor and outdoor soccer, field hockey, and touch rugby. A soccer injury introduced her to Biokinetics, where a fascination for the study of human movement evolved into a lifetime passion and a professional vocation.
Natacha obtained her BHSc Honours Degree in Biokinetics at the University of the Witwatersrand, South Africa, in 2015 after completing her undergraduate degree, BA in Sports Psychology at the University of Johannesburg, South Africa, in 2014. She was invited to join and is a member of the Golden Key International Honour Society.
As a Biokineticist, Natacha prescribes specialist and highly individual exercise and physical activity for rehabilitation and promotion of health and quality of life, primarily helping the management of injuries, illnesses and disabilities.
She is trained in the use of scientifically based exercise programs, concerned with the final phase rehabilitation and prescriptive exercise interventions for the improvement and/or maintenance of a broad spectrum of health conditions.
Natacha has worked with people suffering from a range of conditions, from postural correction to injury rehabilitation and prevention, from chronic diseases to organ transplants, from Parkinson's disease to stroke patients, and from joint replacements to amputees.
Helping people is her passion, and she believes that there is nothing more rewarding than seeing someone you have worked with improve the quality of their life – whether that's to improve mobility, become pain-free, or to return to a lifestyle or activity that they love.
Natacha is a genuinely kind individual, giving each and every client all of her time and effort in order to achieve their personal goals. She has a particular affinity for sports injuries, orthopaedic, chronic and neurological conditions, and enjoys working with individuals of all ages.
In her free time Natacha can be found exploring the streets of London, spending time with family and friends or traveling to new and exciting destinations.