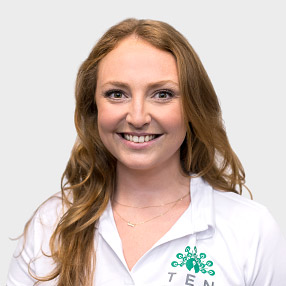 Qualifications:
ActiveIQ Level 3 Sports Massage
ITEC Diploma Sports Massage Therapy Levels 4 & 5
ZENN Glass Cupping Therapy
Trigger Point Therapy
Myofascial Release
Active Isolated Stretching
Favourite things to treat:
Legs, Lower and upper back, shoulders and neck.
Bio:
Olivia is an ITEC Diploma Level 5 Graduate of Sports Massage Therapy from one of the UK's most prestigious sporting universities, St Mary's University Twickenham.
She has been involved in the sports and fitness industry as both a Personal Trainer and a Sports Massage Therapist for 4 years.
A keen athlete herself, Olivia has successfully competed in Strong Woman and Equestrian Sports, and has great empathy and first hand experience for anyone dealing with the frustration of niggly injuries and sore muscles as a result of physical activity. And it's this experience that Olivia's love of Sports Massage Therapy – and choice of career – stems from. Having experienced the benefits of receiving a Sports Massage at first hand, it has always been a passion and a priority to master the discipline herself so she is able to give her clients the same experiences and benefits that she has had.
Olivia takes a particular interest in the reduction and management of lower back pain and with her combined knowledge of manual therapy and exercise, is able to provide not only the best treatment, but also an effective aftercare programme.
Olivia has been lucky enough to work with charities such as BLESMA: The Limbless Veterans, providing massage treatments to their members after a long day of activities. She has worked alongside running clubs to ensure their runners are race ready and has worked at a number of endurance running events.
Having treated everyone from marathon runners, strongmen to office workers, Olivia combines a large and varied skillset with a determination to ensure you receive the best possible treatment and results.