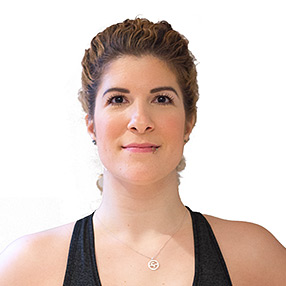 "It's never too late to start moving - your mind and body will thank you for it."
Favourite exercise:
Any bridge. Super important for spinal health, hip strengthening and overall well-being. If you are to do one exercise every day make it a bridge.
Bio:
Pamela has an exceptionally strong understanding of Pilates gained from over a decade of practice and training, and a lifelong love of movement explored through practices including Capoeira, dance, Yoga and, of course, Pilates. Trained by Alan Herdman, she brings intelligence to her teaching ensuring every client gains optimum results. Holistic in approach, a belief in the interconnectedness of the mind and body informs Pamela's teaching practice. For Pamela, we are one, and we need to treating ourselves that way to move forward in life.
Originally from Greece, she obtained an honours degree in clinical Psychology. Her academic study was followed by an MSC in War and Psychiatry at King's College, London. Her studies in Psychology introduced her to the importance of a healthy mind, but it was her studies of Pilates and movement that introduced her to the mind-body connection, and the power of movement to heal not just physical ailments, but to reach and maintain mental wellbeing.
Pamela is a passionate believer in the healing potential of movement, and its potential as a tool for psychological as well as physical discovery. For Pamela, by full engaging with the physical elements of our Pilates practice – the breath, the focused connection with our physical body – whilst asking ourselves 'how do I feel in this moment?', we can break through movement and mental barriers we may not have thought were possible. Our bodies, as well as our minds have a plasticity we should take advantage of every single day.
In her spare time, Pamela explores her own body and movement, ever fascinated with the idea that an able body can do whatever the mind thinks of. She is currently working on her control and precision during dance classes, whilst using Pilates and its principles to balance her own muscular imbalances and recover from strenuous sessions. She also continues to expand her Psychological knowledge, building on her experience as a behavioural therapist before she became a Pilates teacher, to enable her to help her clients more effectively.
Pamela speaks fluent English and Greek.