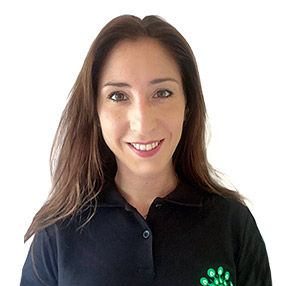 "Whatever you're dealing with, sweat it out!"
Qualifications:
HCPC
CSP
BSc in Physiotherapy (University of Rome)
MSc in Sport Physiotherapy (University of Pisa)
MSc in Sport and Exercise Science – Strength and Conditioning (University of East London)
Certified Manual Physical Therapist – NAIOMT
Certified Orthopaedic Manipulative Physical Therapist – NAIOMT
Certified Strength and Conditioning Specialist – NSCA
Dynamic Reformer Pilates
Classes:
Favourite Exercise:
Deadlift and Squat with barbell or dumbbells, Pikes and Hundred on the Reformer, Yoga-inspired mobility flows.
Bio:
Originally from Italy, Paola obtained her Bachelor's Degree in Physiotherapy at the University of Rome in 2014, and her Master's Degree in Sports Physiotherapy at the University of Pisa in 2016. Following her passion for sports and performance, she came to the UK two years later to start a Master's Degree in Strength and Conditioning at the University of East London. Over the years, initially in Italy and since 2017 in the UK, she has worked as a Physiotherapist in multi-professional medical clinics, sports clubs and leisure centres, gaining experience in assessing, treating and reconditioning a wide range of musculoskeletal, sports and work-related injuries.
Paola came across Reformer Pilates thanks to Ten. As a Physiotherapist and a Strength and Conditioning Coach, she recognises the value of this innovative, full-body workout – accessible and suitable for all – as both an effective and enjoyable way of increasing flexibility, overall strength, muscular endurance, coordination, postural alignment and balance.
Beyond improving physical health and abilities, she knows first-hand that practising Reformer Pilates can also bring mental health benefits, by creating the opportunity to disconnect from the hectic or stressful day-to-day and appreciate the here and now. With its emphasis on breathing, focus and mindfulness, it can help reduce stress and anxiety and ultimately improve quality of sleep, which in turn leads to better performance and focus during daily activities.
In Paola's group and individual classes, she is committed to motivating and helping people to achieve their health and fitness goals, whether this includes recovering from an injury or a painful condition, reducing injury risk, increasing body awareness and confidence, improving postural and muscular control, refining a movement or sport technique or simply feeling better and looking better.
Sports and exercise have always played a major role in Paola's life: she has played volleyball for 10 years and practised a variety of sports including Thai boxing, surfing, kitesurfing and climbing. Now she regularly trains in the gym, does Pilates and yoga, and when the mood takes her, puts her trainers on for a run. In her free time, Paola also loves travelling, cooking and spending time with her family and friends.