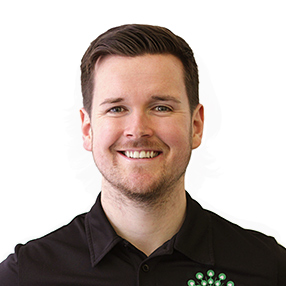 Qualifications:
TenAcademy
Honours Degree in Sport and Exercise Science
REPs Level 3
Level 3 Pilates Matwork Teacher. (Active IQ)
Keiser Cycling Instructor
Advanced Resistance Training (Fitpro)
UEFA Football Coach Level 1 (Irish Football Association)
Basketball Coach Level 1 (Basketball Ireland)
GP Referral Quaified (Wright Foundation)
Classes:
Favourite Exercise:
Shoulder Stand: I love to teach this exercise, as it requires a lot of control of the trunk, core muscles, legs and stabilizers of the hips and pelvis. It is also a fantastic exercise to massage the spine and help release any restrictions or tightness within the spine.
Bio:
Originally from County Antrim, Northern Ireland, Peter has a degree in Sport and Exercise Science from Edinburgh Napier University. After graduating, Peter stayed in Edinburgh working as a Fitness Instructor and Personal Trainer and also coached football and basketball at youth level. Peter then went on to gain a Pilates qualification, and began teaching classes.
In 2012, Peter moved to Seattle to coach youth soccer and teach spin, pilates, TRX, Kettlebell and high intensity interval classes.
Peter combines an insightful and client-based approach with an enduring passion for sport. He especially loves the sense of achievement that comes from completing endurance events. He has a number of, triathlons, half marathons and 10k's under his belt, and having completed the 2012 Belfast marathon, is looking forward to the next challenge!
When not at work, Peter is a diehard film buff, and when he's not watching them loves nothing more that to debate their merits over coffee and cake (after all, with another marathon in your sights, you need all the calories you can get).