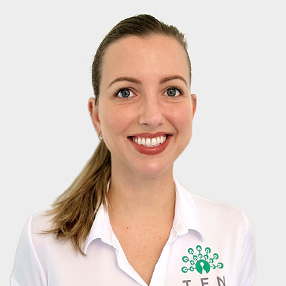 Qualifications:
Bsc Hons Physiotherapy
Polestar studio rehab certified
GEMt dry needling
Favorite Things to Treat:
Neck and back.
Robyn graduated from the University of Nottingham as a Physiotherapist and has over 10 years of clinical experience with a career that spans across Hong Kong, Singapore and London.
She is a certified Pilates for Rehabilitation practitioner which furthers her ethos of 'let exercise be your medicine'. Her physio career began in a large public hospital in Singapore where she was exposed to a wide variety of acute, chronic and traumatic musculoskeletal injuries. She then transitioned into the private sector to further pursue the use of Pilates in her rehab and to continue her passion of healing through movement.
Having always taken an active interest in sports and fitness Robyn appreciates the need for clients to be able to function at their peak and stay injury free. She believes Physio and Pilates to be a highly effective combination to assist anyone recovering from injury; or to further challenge their athletic ability. Coming from a background of physiology and kinesiology, Robyn is able to combine a hands-on approach using myofascial release or dry needling with the active benefits that Pilates exercise brings.