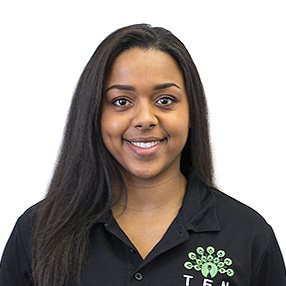 "Persistence gets you there. Consistency keeps you there."
Qualifications:
Women's Artistic Level 1 Coach
BSc Sport, Health & Exercise Science
Level 3 Diploma in Sport Massage Therapy
TenAcademy
Classes:
Favourite Exercise:
Anything glute focused!
Bio:
Growing up in a high-rise flat in North London meant that Shannon's parents had to find somewhere for her to channel all of her energy.
Shannon joined her local gymnastics club, and from then on sport quickly became an integral part of her life. Though she has competed in many sports including diving, athletics and weightlifting, she specialised in gymnastics. Her focus and passion for training – up to 23 hours a week – paid off, enabling her to compete at national level, ranking 8th in the UK.
Whilst knee injuries meant that Shannon had to retire earlier than planned from competition, she stayed within the discipline as a coach for the next generation of gymnasts. Throughout college and university, coaching was a passion of hers, and after graduating from Brunel university with a BSc in Sport Health and Exercise Sciences she travelled to America to coach at the International Gymnastics Camp.
On returning from America she decided to combine her academic knowledge with her personal experience, and to pursue a career in fitness and personal training.
Discovering Pilates was a game and career changer for Shannon – she loves the unique discipline and physical challenges involved when using the Reformer. She particularly loves the Reformer's ability to help her develop clients' functional fitness and flexibility whilst having fun at the same time. (Not to mention that as a low-impact discipline, makes it the perfect form of rehabilitation for her own knee injuries).
Shannon likes to challenge her clients – she is determined to help them experience the same feelings of development and achievement that she finds so rewarding and empowering. She loves to keep workouts varied, and incorporate elements from her gymnastics background, developing balance, flexibility and body conditioning. For her, the only bad workout is the one you didn't do!
In her spare time you'll probably find her at the gym practicing her tumbling.