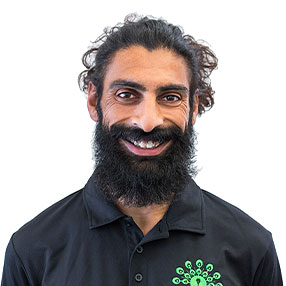 "Live your life, live it right, be different, do different things"
Qualifications:
Level 2 Gym Instructor
Level 3 Personal Trainer
Classes:
Favourite Exercise:
Kettlebell swings; actually anything with a kettlebell!
Bio:
Sumrit has always been passionate about all sports, whether playing it, watching it or reading about it.
Following the sudden passing of his father in 2011, his sister signed up to the Great North Run to raise money for the British Heart Foundation – sibling rivalry led him to the start line alongside his sister and that's where his passion for running was ignited.
After completing a couple of marathons and immersing himself in London's running community Sum realised that he needed to make sport his purpose as well as his passion.
Sum likes to view training as a form of playing and is a big advocate of kettlebell and TRX training for improving strength & mobility across all planes of motion.
Sum is grateful for the way running and training has improved his physical & mental health and loves nothing more than to share stories, build relationships and inspire others to take on challenges that they might not have yet considered.
In his spare time you'll likely find Sum with a kettlebell, (or KettleBae as one of his friends has re-named it) and he's never too far away from music!