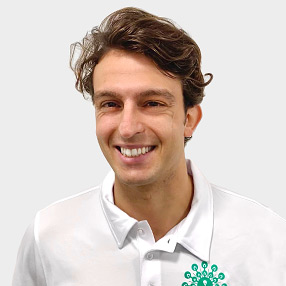 Qualifications:
HCPC
CSP
Bachelor of Science in Physiotherapy (Queen Margaret University of Edinburgh)
National Strength and Conditioning Association – Certified Strength and Conditioning Specialist
FIFA Diploma in Football Medicine
Favourite things to treat:
Shoulder pathology (particularly shoulder pathology of the overhead athlete), knee pathology, acute and chronic low back pain, soft tissue injuries, reconditioning after injuries
Greek-Canadian Tilemachos has been involved in sport since the early age of 5. His talent and passion for water polo has led him to follow a professional career in Greece and in The Netherlands. Some of his highlights have been winning The Dutch Super Cup and Championship, Champions League Participation and being the first scorer of the A2 Division in Greece. All of these experiences have played a major role in his involvement with physiotherapy and have helped him gain a better understanding of sports injuries.
During his studies at Queen Margaret University in Edinburgh, he underwent inpatient training and did clinical rotations at large hospitals. Through this, he found that he had an innate preference for treating sports-related injuries.
After graduating in 2018, Tilemachos spent the first 2 and a half years working as a physiotherapist for a large German sports-oriented resort, where he primarily treated professional and amateur tennis athletes and provided recovery programmes during their preparation period. He later worked for the International Tennis Federation Tournament (ITF Futures) in Greece.
As a professional athlete, he has suffered his fair share of sports related injuries, the most serious one being a shoulder sublaxation (a partial dislocation – highly disruptive and extremely painful) which required surgery and a lengthy rehabilitation programme. As a result, he came to realise that there is a missing link between rehabilitation programmes and return to play, and looked to gain a better understanding of how this gap can be bridged. Therefore, he decided to study for and pass the NSCA CSCS (Certified Strength and Conditioning Specialist) exam.
One of Tilemachos' strong suits is that the advice he offers is always simple, honest and to the point, not to mention that his general perspective is to encourage his clients to remain positive and proactive. Tilemachos employs a range of both passive and exercise-based protocols, always placing greater emphasis on exercise rehabilitation.
Tilemachos always remains steadfast in his desire to achieve a positive outcome for his clients. This combined with his patience, determination and soft-spoken manner have thus far ensured client satisfaction as well as positive conclusions.