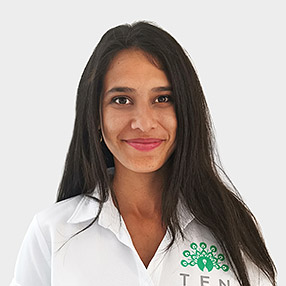 Qualifications:
Masters in Biomechanics
Post Grad: Postural and Manual Therapy
BHSc Physiotherapy (Brazil)
Metacorpus Matwork and Studio Pilates ( Brazil)
Stott Pilates Ball
APPI Pilates Matwork Level 1
Pilates Body Europe (Wunda Chair)
Member of the Chartered Society of Physiotherapy
Favourite things to treat:
Back pain, sports injuries, pre and post-operative rehabilitation.
Bio:
Originally from Brazil, Vanessa in impressively qualified.
She holds BSc in Physiotherapy from the University of São Carlos a Masters in Biomechanics from the University of São Paulo specialising in Low Back Pain, along with postgraduate training in Postural and Manual Therapy, which gave her a broad knowledge of manual and postural therapies including Cyriax, Maitland, Mulligan, Osteopathy and Global Postural Rehabilitation.
During this period she also worked as a sports physiotherapist for Londina City's basketball and football teams at Clinique du Sport, where she gained broad and valuable experience in the management of pain, sports injuries and disability.
In 2006 Vanessa started studying Pilates as a way to introduce patients to more interesting and effective exercises. It proved so successful with patients that she decided to continue her training in the area, combining it with her studies in Low Back pain.
In 2011 she moved to London to work with Gordon Thompson, one of the founders of Body Control Pilates, combining clinical knowledge with Pilates technique to treat clients with a range of orthopaedic and sports injuries.
Passionate about movement, Vanessa's sessions combine hands-on techniques with exercise and analysis of the body's interconnected elements to ensure effective and enduring recovery for her clients
Vanessa is interested in all sports and as a true Brazilian, she's passionate about football. She used to be a taekwondo practitioner but at the moment she mostly runs around after her three kids.