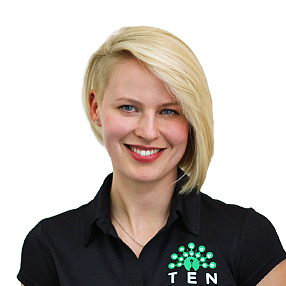 "Do more Pilates!"
Qualifications:
TenAcademy
Level 3 Personal Trainer
Indoor Cycling
TRX
Classes:
Favourite Exercise:
Any Lunge
Bio:
Vicky qualified with a diploma in Advanced Personal Training with a particular interest in the science and techniques of running, with a focus on injury prevention. She is also a qualified indoor cycling instructor, which she loves for its ability to deliver an amazingly effective cardio workout – so expect her Cardiolates sessions to be particularly intense!
She has spent the last 5 years refining her skill as a Personal Trainer in an independent gym, which specialised in Pilates, working with a wide range of clients. It is here that she saw the amazing benefits of Pilates, and which inspired her join the TenPilates team.
When she's not teaching classes, Vicky's big passion is running. She represented her county in her early teens and still enjoys running and training for half-marathons. She also coaches children in middle distance running.
As a mum herself, Vicky particularly enjoys working with Pre and Postnatal clients.