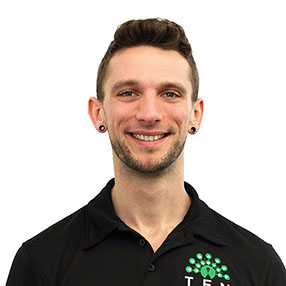 "Anything worth having is worth fighting for!"
Qualifications:
TenAcademy
Personal Training and Nutrition Diploma
Polestar CPD
Studio Cycle
Supple Strength
Running Coaching
Currently Training as a Reflexologist
Classes:
Favourite Exercise:
The Acrobat (closely followed by Side-Lying Leg Press)
Bio:
Originally from the South East coast, Vinny has been involved in health and fitness for many years, both as a Trainer and a Manager.
Prior to achieving his Diploma in Personal Training and Nutrition, Vinny worked in Health and Social Care, enabling marginalised populations to lead full and active lives. He also holds additional qualifications in Supple Strength training, Running Coaching and Studio Cycling.
Before joining Ten, Vinny worked with a variety of individuals from sedentary desk-based professionals to professional dancers and actors.
With every client Vinny's initial focus is on postural support and effective functional movement. He believes that once the musculoskeletal system – the body's scaffolding – is correctly aligned and strong the only limitations are your genetics and your motivation!
Vinny also maintains a keen interest in nutritional analysis and support, believing that fuelling your body for your lifestyle is key to meeting and maintaining your goals while maximising energy levels and vitality.
In his (few) spare hours, Vinny enjoys a variety of different activities including mountain biking, swimming, rock climbing, body sculpting, riding and (most importantly) busting shapes on the dance floor!