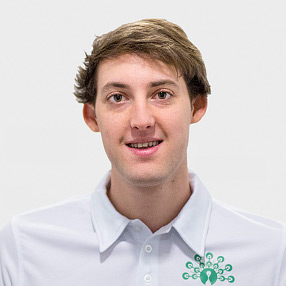 Qualifications:
Masters in Osteopathy (M.Ost) full time – University College of Osteopathy (2014 – 2018)
Fully Registered with the General Osteopathic Council
Still technique
First Aid
Favourite things to treat:
Lower back, neck and shoulder
Bio:
Registered with the General Osteopathic Council.
William graduated from the University College of Osteopathy (UCO), formerly known as the British School of Osteopathy, with a Masters in Osteopathy. His interest in sports inspired him to write his research paper on hamstring strain injuries in athletes and commence his career getting his hands-on with a team of young sprinters at Lee Valley in London.
William started practicing osteopathy half way through his course at the university's clinic, where he encountered a variety of patients with different lifestyles and musculoskeletal conditions.
During that time he gained experience treating patients with differing needs and conditions, including HIV patients at the UCO Clinic and Royal Free Hospital, elderly patients, Sports Clinics and at an NHS GP practice.
Thanks to his extensive training and broad knowledge of anatomy and physiology, William can effectively diagnose the issue and create a suitable treatment plan for the patient.
He is keen to decrease pain and restore optimum function. His aim is to promote health in the individual and believes maintenance and prevention is the key to a healthy and successful lifestyle.
William's treatment is primarily hands-on using osteopathic techniques to increase range of motion and improve the health of the tissues allowing the body to heal. He also completed a course on Still Technique, which he uses regularly to treat his patients. He also strongly acknowledges the benefit of the integration between manual therapy and exercise to achieve the best possible results, not just with pain management but also with performance.
William is an ex water polo player and enjoys surfing, sailing, driving, running and football.