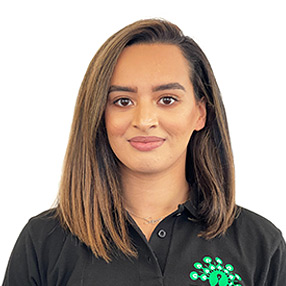 "Live as if you were to die tomorrow. Learn as if you were to live forever." – Mahatma Gandhi
Qualifications:
Level 2 Fitness Instructor
Level 3 Personal Trainer
Favourite Exercise:
Squats, glute bridges and pull ups are some of my favourite exercises.
Zainab began her fitness journey five years ago after signing up to her university's gym. Zainab fell in love with lifting weights after seeing the effect it had not only on her body but also her mind and enjoyed the challenges and achievements that came with bodybuilding.
Zainab was working jobs she didn't enjoy and surrounded by people who didn't motivate her or push her to do better but found a great support system from people she used to see in the gym who encouraged her to be better and do better. For the first time she felt a sense of belonging by being surrounded by likeminded people and enjoyed the atmosphere of being in the gym leading to her pursuing a career in fitness, something that she was passionate about and eager to learn more about.
Zainab turned her passions into a career and became a personal trainer who found joy and a sense of accomplishment by being a big part of peoples transformations – both physical and mental. Zainab thrives of helping and pushing people becoming better versions of themselves and holds a lot of pride being a PT, knowing that she has been a big part of helping someone change their life and outlook. To Zainab it doesn't feel like it is a job as she has been able to combine both her passion and career.
In her spare time, when Zainab isn't working, she enjoys visiting museums, art galleries, going on holidays, listening to music, being around her friends and family and she is also a big foodie who loves exploring new cuisines and eating a lot of food.