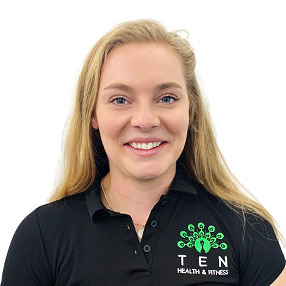 A motto that she lives by is "practice what you preach"
Qualifications:
Bachelor of Science in Exercise Science
Postgraduate Diploma in Science in Clinical Exercise Physiology
Master of Science in Clinical Exercise Physiology
REPs Level 3 Personal Trainer
FAA Level 3 Emergency First Aid
BACPR Level 4 Exercise Instructor passed with Distinction
Favourite Exercise:
In her spare time you will find her running, hiking, doing high intensity interval training (HiiT) and getting involved in team sports.
Carys was born in New Zealand and has always been extremely passionate about health, wellness, and the human body.
With a background in athletics (she was team captain at provincial level), netball, and touch rugby prior, she holds a degree in Exercise Science, and a Postgraduate Diploma and Masters in Clinical Exercise Physiology from The University of Auckland.
Carys has a breadth of experience working with clinical populations both in New Zealand and the UK. This has enabled her to work professionally with a variety of clients presenting with a wide range of health conditions (including cardiovascular, haematological, musculoskeletal, metabolic, neurological, and pulmonary) within a clinical yet adaptive setting.
Carys is a firm believer in 'Exercise is Medicine' as a fundamental element that boosts not only physical health, but also mental, and emotional wellbeing.
She is always committed to assisting her clients in achieving a healthier lifestyle and meeting their fitness goals through enjoyable, personalised and evidence-based practice (combining both testing and exercise prescription). She is also extremely eager to continue learning and enhancing her knowledge and skills, to create the most appropriate and beneficial programmes for her clients.
For Carys, what makes Reformer Pilates so beneficial as an exercise practice is that it incorporates stretching, loading and corrective components without putting too much pressure on weight bearing joints. She enjoys being a part of TeamTen because of the shared set of beliefs and goals, and because of Ten's Circle of Care – an integrated and collaborative team of allied health professionals working closely together with each client's best interests at its heart.
Having endured her share of sporting injuries and having undergone knee surgery, she is acutely aware of the mental and physical impact of injuries and setbacks on training goals, and knowledgeable about modifying exercise programs to assist in rehabilitation whilst still supporting clients' journeys towards their health and fitness goals.