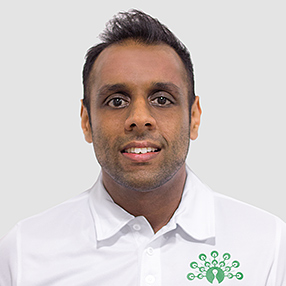 Qualifications:
HCPC
MSc (Pre-reg) Physiotherapy (Distinction honours)
MSc module (Neuro-musculoskeletal Triage)
BSc Biomedical Sciences
Favourite things to treat:
Lower limb, Shoulder, Spinal.
Sports/exercise injury prevention and rehabilitation
Bio:
Registered with the Health and Care Professions Council.
Aynk is a specialist Musculoskeletal Physiotherapist with experience in the NHS, private practice and high performance sport.
With degrees in both Biomedical Sciences and Physiotherapy, he is able to integrate his knowledge of anatomy, physiology and neuroscience to provide the optimal rehabilitation package for his patient's conditions.
Having worked at Guys and St Thomas Hospital, one of the leading NHS trusts in London, Aynk has developed a repertoire of assessment skills with experience across a diverse population group. He worked closely with the hospital's surgeons to assist in all post-surgical rehabilitation programmes such as ACL reconstruction, shoulder stabilisation and Achilles tendon repair, to name a few.
He further developed his expertise working with elite football, cricket, volleyball, golf and basketball teams at both club and national level. Aynk currently works as an Academy Physiotherapist at Tottenham Hotspur Football club and as a Physiotherapist with England Basketball to continually enhance his specialist rehabilitation skills.
With a Certificate in Spinal Manipulative Therapy and a Sports Massage qualification, Aynk brings a hands-on approach to his treatments. His passion for rehabilitation and exercise therapy is key to his success with patients, drawing on his experience to create the most appropriate strategy and treatments for each individual. With keen attention to detail from start to finish, Aynk draws on his expert skills from elite sports rehabilitation and injury prevention to optimise his patient-centred care and its outcomes.