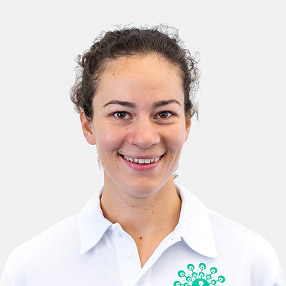 Qualifications:
BSc Physiotherapy
HCPC
MCSP
APPI Pilates Matwork Level 1
Kinesiology Taping
Manual Therapy
Sport Rehabilitation
Favourite things to treat:
Bio:
Begum graduated from the Doctor of Physiotherapy program at The University of Melbourne in 2016 after moving to Australia from Toronto, Canada. In combination with her bachelor degree in Kinesiology, she is a strong believer of combining exercise therapy and manual techniques to help her clients to be pain-free and achieve their goals.
Since graduating, Begum has gained vast experience working with a variety of patients. From aged care facilities to sporting teams, she's no stranger to a variety of conditions and prides herself on being able to treat people with a multitude of starting points and a multitude of goals.
Having worked with athletes at local and state level, it's no surprise that she is passionate about Sports Physiotherapy. From her years of providing sideline care to local Australian Rules Football (AFL) teams and state level soccer teams, she has developed a keen interest in acute sports injuries and sports rehabilitation.
Whilst working at the Shanghai Sunshine Rehabilitation Centre, she also gained experience supporting both pre and post-surgery patients with Orthopaedic care.
In addition to her Physiotherapy training, Begum completed the Comprehensive Polestar Rehabilitation course in Australia, after discovering the benefits of Pilates whilst treating her own musculoskeletal injuries. She is very passionate about helping people overcome injuries and pain to achieve goals and is interested in using Pilates to improve posture, and functional movement to provide people with a better quality of life.
Begum is an avid traveller. In her free time, she enjoys exploring all that London has to offer, practicing her photography skills, and keeping active – whether that's through playing tennis, rowing, going for a bike ride or hiking.