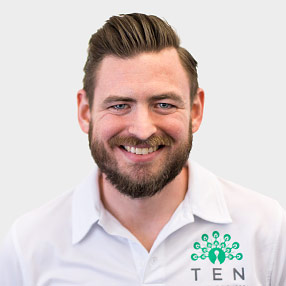 Qualifications:
MSc Physiotherapy
BSc (Hons) Sport and Exercises Science
PGcert Advanced Musculoskeletal Practice and Research
Memberships:
Favourite things to treat:
Shoulders
Running injuries
Low back pain rehab
Knee ligament rehab
Tendon Pain
Sport Injuries
Bio:
Brad initially gained a degree in Sport and Exercise Science from Loughborough University before following his interest in injury and rehabilitation and completing a Master's Degree in Physiotherapy.
From here he completed his junior rotations at a large acute hospital working across intensive care, stroke and neurology and trauma and elective surgeries such as hip and knee surgery. His passion however lies with musculoskeletal physiotherapy and he soon moved into a specialist musculoskeletal physiotherapy service where he became a Clinical Lead Physio, providing assessment and treatment for NHS patients.
This passion took him to a role of First Team Physio and Head of Medical for Southend Football Club's, before spending the next 5 years as Physiotherapist with Great Britain and England Basketball.
He remains in Basketball to this day, working with the elite level Deng Camp, but his main sporting commitment now is working with the British Gymnastics Team as they prepare for next year's Tokyo Olympics. This enables him to stay up to date and abreast of current rehabilitation in professional sport, treating all clients as a world class athletes.
Brad has completed further study, achieving a Postgraduate Certificate in Advanced Musculoskeletal Assessment and Treatment, and is currently completing another degree in Ultrasound Scanning alongside qualifications in Strength and Conditioning. He is also qualified in sports massage, acupuncture and kinesio-taping.
Brad's wide range of experience – from both the NHS and private practice – enables him to successfully treat musculoskeletal injuries and conditions in clients of all ages and from all walks of life, from those wanting to improve their walking to those looking to return to the highest level of sport.
In his spare time Brad will be marathon training and following his beloved Chelsea FC. He guest lectures at the University of Essex, speaks at evening lectures in the profession, and has featured on many podcasts whilst writing regularly for blogs. If he is not in clinic he is probably debating Physio stuff on Twitter or Instagram (@bscanes and @Physiobrad, respectively.)