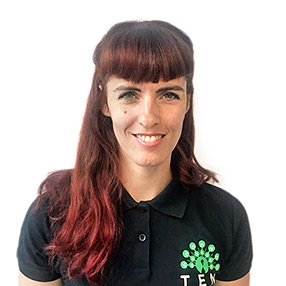 "Never allow fear to dictate your actions. You are capable of more than you think."
Qualifications:
IAQ – LEVEL 3 Diploma in Personal Training and Fitness Instructing
Pilates Diploma Course Level 3

Degree of Bachelor Performing Arts in Contemporary Dance
Foundation Degree in Circus Arts
CircusFit Dynamic Aerial Yoga Instructor
CircusFit Aerial Pilates Instructor
Progressing Ballet Technique Certified
Classes:
Favourite Exercise:
Pull ups – A challenging compound exercise, targeting many different muscle groups that encourages strong scapular and shoulder joint stability.
Bio:
Catriona has been a passionate advocate of movement for health for over 15 years. Her love of movement was sparked early on when she was first introduced to dance as a child. She pursued a career as a professional dancer, graduating from the Northern School of Contemporary Dance, and completing an NC in Dance Performance at the Scottish School of Contemporary Dance. Later, her dance career took her into the world of circus, in which she graduated with a Foundation Degree in Circus Arts, specialising in Dance Trapeze. Catriona spent many years sharing her love of dance and circus, working as a performance artist and teacher. During this time, she became all too aware of the importance of injury prevention and body rehab, and it was this that drew her further towards the health and fitness industry.
Catriona became a barre instructor in 2015, and it was through this training that her depth of knowledge – considering the body and how to challenge, control and develop our bodies in a safe and effective way – truly heightened. And she didn't stop there – Catriona continued her studies as a Movement Health Expert, becoming a Personal Trainer and Fitness Instructor. She attained a Pilates Teacher Diploma and has since been teaching various group exercise classes across London including PBT (progressing ballet technique), Rebounding, Aerial yoga, Aerial Pilates, Trapeze, HIIT and Studio Cycle.
Catriona aims to make movement exciting for everyone, no matter what your background is. In her sessions, her goal is to challenge clients, studying each person's own individual needs, and helping them to move in a safe, effective and enjoyable way.