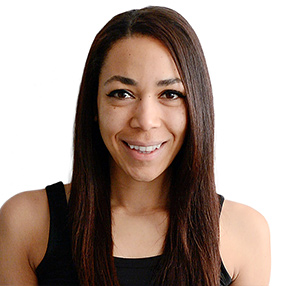 "Breathe, Stretch, Shake, Let it Go"
Qualifications:
200 Hour Teacher Training
Classes:
Favourite Exercise:
Urdhva Dhanurasana (Wheel) and Natarajasana (Dancer's Pose).
Bio:
Passionate about yoga since her teenage years, Charmaine believes that it's a discipline for everybody, regardless of body shape, age or ability. With a training background in vinyasa flow, she teaches yoga with focus on fitness and tempo, working within each student's individual range of movement and capabilities.
Charmaine's classes are suitable for all levels, as she pays particular attention to each student's alignment to ensure that asanas are carried out in a safe way, allowing students to progress in their personal practice and pay attention to their body alignment both on and off the mat.
Charmaine has taught at yoga festivals throughout London, devising various workshops from power flow to inversions and backbends.
When not teaching, Charmaine works in a fast paced television production environment. Her teaching is underpinned by first hand experience of the pressures that clients face on a daily basis and an understanding that yoga is just one of many multiple work, family and personal commitments her clients have to juggle on a daily basis.
Having a passion for pranayama, Charmaine often incorporates various breathing exercises for these students to assist them in turning their practice inwards to encourage calmness and serenity.