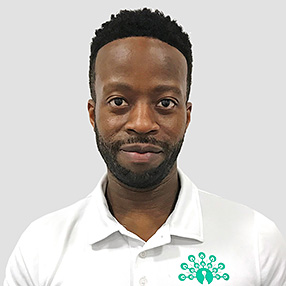 Qualifications:
Active IQ Level 3 Sports Massage (Soft Tissue Therapy)
Active IQ Level 4 Sports Massage (Soft Tissue Therapy)
Member of SMA (Sports Massage Association)
Deep tissue
Sports massage
MET (Muscle Energy Technique)
Myofascial Release
Trigger Point Therapy
Active Isolated Stretching
Favourite things to treat:
Neck, Upper back, Shoulders, and Upper legs.
Bio:
Cliff was raised and grew up in London. His background as an ex-sprinter and personal trainer proved the perfect stepping stone to gaining his certifications in Active IQ Level 3 & 4 Sports Massage.
Cliff has been involved in the sports and fitness industry as both a Personal Trainer and a Sports Massage Therapist for over 6 years. Since qualifying as a Sports Massage Therapist, he has been able to put his knowledge of anatomy and physiology to good use and has gained an ever-growing roster of loyal regulars. By honing his skills regularly, he is able to provide the best service possible to his clients.
Cliff takes a particular interest in pain management; his knowledge of appropriate treatment has provided clients with the most effective treatment for their needs. His techniques are very adaptable, suiting a wide range of people – not just active sports people or those in training, but also clients whose daily activities leave them discomfort, tension or soreness.
Cliff is registered with the Sports Massage Association (SMA), aiding him in expanding his knowledge and experience as a health practitioner. When booking an appointment with Cliff you will get the highest quality tailored treatment, whether you choose a Sports Massage or any other therapy. He believes balance is the key to good health and will lead to a fitter, fuller life.