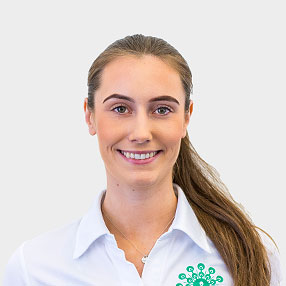 Qualifications:
BSc Hons Physiotherapy
HCPC
CSP and POGP
Pre/Post Natal Physiotherapy
Reformer and Mat Pilates instructor
Sports massage and Dry needling
Favourite things to treat:
Necks, lower backs and shoulders, Paediatrics and ACL rehabilitation.
Bio:
Registered member of the Health and Care Professions Council.
After graduating from Glasgow Caledonian University with a First Class Honours in Physiotherapy, Courtney moved to Auckland, New Zealand to begin working in a private Physiotherapy and Pilates clinic. During this time, she saw a multitude of clients with a variety of conditions allowing her to develop her skills and experience with musculoskeletal issues.
Courtney has seen a great clinical benefit from combining her manual therapy and dry needling skills with clients. Having since adopted a Pilates role, she has found that the effects of exercise, posture and education are also vital for allowing clients self-maintenance and driving independence to reach their full health potential.
A passion for Women's Health has led Courtney through additional training with the Pelvic, Obstetrics and Gynecological Physiotherapy (POGP) society in number of related specialisms. This includes broadening her pre and post natal knowledge through evidence-based practice when working with pregnancy related pain and safe exercise guidelines.
Courtney is also qualified in female urinary dysfunction and is also trained to assess internal pelvic floor strength to promote stability for long-term pelvic health – particularly relevant when returning to exercise post-partum.
She continues to build into the Women's Health world, furthering her knowledge with an additional study of Menopause, the effects and the implications for clinical practice.
Courtney focuses on an individualised exercise program for each clients to achieve their full potential. She works to help patients feel stronger and confident, so they are able to return to activities they enjoy. She also has a passion for working with female pelvic health and high intensity exercise. She particularly enjoys seeing her clients make the transition from the treatment room to Ten's Dynamic Reformer Pilates classes. Preferably the ones she's teaching!
When she's not treating patients, Courtney enjoys walking – mainly to explore nature and to find the best cafes!