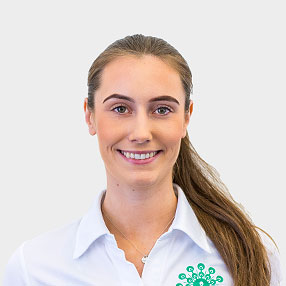 Qualifications:
BSc (Hons) Physiotherapy
HCPC
MCSP
Stability Plus Reformer & Mat Pilates instructor
Sports Massage
Dry Needling
Favourite things to treat:
Necks, lower backs and shoulders, Paediatrics and ACL rehabilitation.
Bio:
After graduating from Glasgow Caledonian University in 2017 with a First Class Honours in Physiotherapy, Courtney moved to Auckland, New Zealand to begin working in a private Physiotherapy and Pilates clinic. During this time, she saw a multitude of clients with a multitude of conditions allowing her to develop her skills and experience with musculoskeletal issues.
Courtney has seen a great clinical benefit from manual therapy skills and dry needling with clients. Having since adopted a Pilates role, she's found that the effects of exercise, posture and education are also vital for allowing clients self-maintenance and driving independence to reach their full health potential.
Believing in the importance of daily exercise, Courtney aims to help all of her clients not just back to health, but to support them in maintaining active and healthy lifestyles in the years that follow treatment.
Having completed an elective placement within the Edinburgh Sick Children's MSK department, Courtney also upholds a great passion for Paediatric Physiotherapy and she thoroughly enjoys working with children.
It was this passion that led her to set-up a youth Pilates group in New Zealand, where she taught Pilates, and more specifically its postural and strength related benefits to 12- 16 year olds.
When she's not treating patients, Courtney enjoys walking – mainly to explore nature and to find the best cafes!