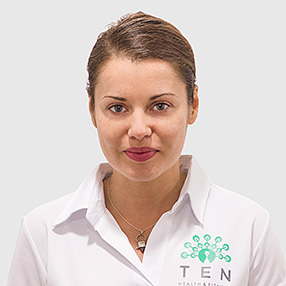 Qualifications:
Holistic/swedish Massage
Deep Tissue
Sports Massage
Pregnancy Massage
Favourite things to treat:
Shoulders, backs and knees.
Bio:
Dinarta Abreu completed her holistic massage diploma in 2011 and is a member of the MTI (Massage Training Institute).
Her interest in body mechanics and massage stems from a love of movement and expression through the art of Capoeira (Afro-Brazilian Martial Art) and Afro-Contemporary dance.
Through her own injuries Dina has gained a wealth of knowledge around muscle and body awareness. She has a specialist interest in shoulders, backs and knees and currently works with a broad range of clients, from office workers to martial artists, triathletes and dancers. Her mission is to help her clients find relief from tension, injury and pain by using a range of advanced techniques to release long-term muscular aches.
She aims to bring awareness to health through body and mind balance, with an emphasis on quality of treatment in a peaceful, unhurried and comfortable environment. Her treatments are always tailored to suit each individual client's needs.
With over 9 years experience working in prestigious Physiotherapy, Chiropractic and Osteopathy clinics in the UK, she takes pride in her customer service and her ability to establish a genuine relationship with clients and their needs.
Outside Ten, Dinarta spends most of her spare time working on her creative endeavours, and has a love for the arts, music and movement. With health at the heart of her lifestyle, training for capoeira and dance is her biggest passion.