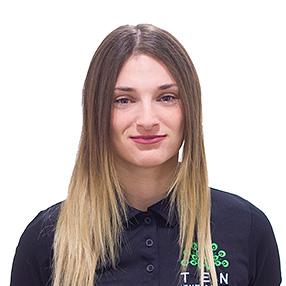 "Change your mindset and SUCCEED"
Qualifications:
TenAcademy
BSAc in Sports Science & Physical Education from Aristoteleio University of Thessaloniki
MSc Dance Science from Trinity Laban Conservatoire of Music & Dance
Full Scholarship in North Academy of Fitness:
– Mat Pilates I & II
– Reformer Pilates I, II & III
– TRX & Functional Training
– Sport Conditioning
– Weight Control
– Vinyasa Yoga
– Personal Training
– Group Strength & Power
UKSCA: Planning Effective programmes in Sports Performance
Plyometrics, agility & speed exercises
Classes:
Favourite exercise:
Reverse 4-point Hover into Reverse Plank and Wheelbarrow. (Core alignment, posture and upper-body strength – all in one move.)
Bio:
Born in Thessaloniki, Greece, Eleftheria started ballet when she was 3 and hasn't stopped since.
Since then, her limitless passion for dance has led her to explore more styles including hip-hop, commercial, experimental, contemporary, and to train in aerial hoop, silks and rope. It also inspired her to travel around the world to take professional workshops with famous choreographers such as Hofesch Schetcher, Wayne McGrecor, Chazz Buzzan, Zoi Tatopoulos, and to work in some great theatrical performances, art exhibitions and dance projects.
Eleftheria's journey to fitness started when she decided to study Sports Science and develop her knowledge of the human body and sports performance. In the last year of her studies, she was awarded a full scholarship in one of region's top fitness academies, working next to and learning from some of the leading fitness personalities in Greece.
After 2 years teaching in top health & fitness clubs and dance schools, Eleftheria came to London to complete a masters degree in Dance Science at Trinity Laban.
Eleftheria believes that with the correct mindset, and positive people and influences around you, anything is possible – physically and in life generally.
She is currently undertaking the Comprehensive Pilates teaching diploma from Balance Body along with UKSCA's Strength & Conditioning Coaching qualification.
At the same time, she takes dance classes around London, keeping her training up to date with all the UK leading choreographers. Any time she is not teaching you will find her trying new body shapes and dance movements in the mirrors.
At Ten, you will find Eleftheria teaching Dynamic Pilates reformer, TenHiiT, TenYoga, TenBarre and TenRX classes.