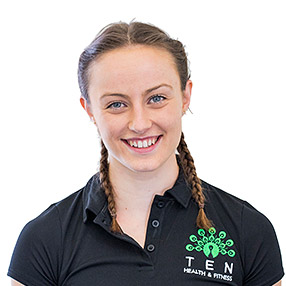 "Don't exercise to add days to your life. Exercise to add life to your days."
Qualifications:
PhD Candidate in Clinical Exercise Physiology
BSc (Hons) Sport and Exercise Science with the Diploma in Professional Studies
Level 4 BACPR Exercise Instructor Qualification
Level 3 Diploma in Exercise Referral
Level 3 Personal Trainer
Level 3 Diploma in Sports Massage
Level 2 Circuit Instructing
Level 1 Zumba Instructor
TRX Suspension Training
Mental Health Awareness for Sport and Physical Activity Course
NASM Optimum Performance Training
NASM Mental Toughness Training
TenAcademy – Reformer
Pre and Postnatal Dynamic Reformer Training Course
Ten Dynamic Bodyweight Pilates
Favourite Exercise:
Single leg Romanian Deadlifts.
Francesca is currently completing a PhD in Clinical Exercise Physiology at Coventry University. She is researching remotely prescribed and monitored clinical maintenance exercise programmes for people living with coronary heart disease. Francesca is particularly passionate about supporting people to not only adopt new healthy lifestyle behaviours, but also to adhere to their exercise routine in the long run to prevent and manage chronic conditions. Currently, she is based at a clinical rehabilitation centre in Coventry where she continues to gain experience working with a large range of clinical conditions including peripheral artery disease, coronary heart disease, and chronic obstructive pulmonary disease.
Francesca has always been an advocate of Exercise as Medicine, having completed a placement year at the Leicester Diabetes Research Centre at Leicester General Hospital and at The National Centre for Sport and Exercise Medicine in Loughborough. She worked closely with a multi-disciplinary team of physiotherapists, doctors, and research staff, gaining valuable experience and knowledge of clinical exercise with a range of populations. This was an integral element of her undergraduate degree in Sport and Exercise Science at Loughborough University which deepened her desire to help people improve their health and wellbeing through exercise and lifelong behaviour change.
Through her ongoing applied research experience, evidence-based practice is woven into Francesca's core values. She believes it is vital to continually strive to learn more in order to provide the highest standard of specialist care in her practice. She takes a holistic approach to her client's sessions by incorporating her knowledge as a sports massage therapist to educate them on recovery as well as injury prevention and management.
Planning and celebrating small steps to reach your goals is an important part of Francesca's ethos to help her clients build confidence to overcome challenges they had previously thought were unachievable. For Francesca, enjoyment and a clear purpose to every session are key to meeting your goals.
Since the start of the pandemic Francesca has provided online clinical exercise sessions, as she believes that we should all have access to individualised and expert support from the comfort of our own homes or in studio. You'll certainly start the day right with a dose of her infectious energy and the attention to detail she brings to every online class. You can find her on the mat teaching Dynamic Bodyweight Pilates flows, and HiiT for a motivating cardio blast. Through teaching Reformer Pilates, quality of movement has become the heart of her sessions. She aims to transition movements from online sessions into functional daily activities to improve your quality of life.
Francesca has a diverse sporting background and whilst at Loughborough University, she achieved a black belt in Kickboxing and was the Ladies Intermediate Middleweight University Kickboxing National Champion in 2017.
In her spare time, you will find Francesca training in the gym, hiking up mountains and exploring the great outdoors.