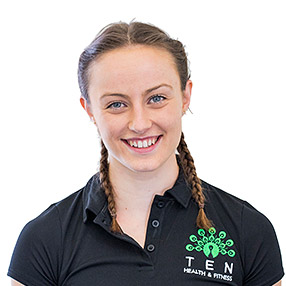 "Don't exercise to add days to your life. Exercise to add life to your days."
Qualifications:
BSc Sport and Exercise Science (Hons)
Level 2 Fitness Instructor
Level 3 Personal Trainer
Level 2 Circuit Instructing
Level 3 Sports Massage
Level 1 Zumba Instructor
TenAcademy
Classes:
Favourite Exercise:
Press up pike on the reformer or swiss ball – a challenge of balance, coordination and strength.
Francesca has loved sport and exercise from childhood, playing everything from netball and football, to street dance and charity half marathons.
She discovered Kickboxing whilst studying Sport and Exercise Science at Loughborough University, and having trained for 4 years to achieve her black belt she became the ladies university middleweight national champion in 2017.
Francesca has always been an advocate of Exercise as Medicine, leading her to complete a placement year at the Leicester Diabetes Research Centre at Leicester General Hospital and also at The National Centre for Sport and Exercise Medicine. Working closely with physiotherapists, doctors and research staff, she gained valuable experience and knowledge of clinical exercise with a range of different populations particularly diabetic, COPD and cardiac patients.
Through her research experience, evidence-based practice has become one of her core values. She continually strives to apply new findings to improve her client's workouts.
Keen to create a more a holistic approach to treating and training her clients, Francesca completed her sports massage qualification. She believes massage should be an important element of any client's programme, not just to help tackle and prevent injuries, but also for relieving tension and stress from daily life as well as to improve recovery between exercise sessions.
Committed helping people live healthy, fulfilled and happy lives through exercise, no matter what their ability, Francesca's passion is to help people learn to love exercise and to build their confidence to tackle new challenges they first thought were unachievable. She believes celebrating the little steps of progress is the key to maintaining any exercise routine, whether you are a beginner or expert, to help you reach for those giant goals.
In her spare time, she enjoys walking in the countryside with her dog, training in the gym or sparring in the ring and going to the theatre. At any chance she can get, she loves to dance, no matter where she is, particularly salsa.