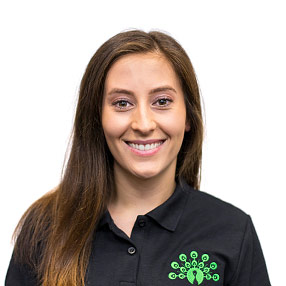 "Be the change you want to feel"
Qualifications:
Bachelor of Honours- Sport and Exercise Science (Loughborough University)
British Association for Cardiac Prevention and Rehabilitation- Advanced Level 4 (BACPR)
NASM Optimum Performance Training Model Certification
NASM Mental Toughness
NASM Corrective Exercise Specialisation
Emergency First aid at Work
TRX Suspension Training Course
Kinesiology Taping
Dynamic Reformer Pilates (DPR)
Level 2 Certificate in Fitness Instructing – Gym-Based Exercise
Favourite Exercise:
Lateral Oblique Raise.
Georgia graduated with Honours from Loughborough University in Sport and Exercise Science. Throughout her studies she gained valuable insight into the best evidence-based and scientific led methods that are emerging in the clinical field of exercise.
You can expect your sessions with Georgia to be scientifically researched and tailored to your needs and goals. For Georgia, the future of clinical exercise is the ACSM initiative of 'Exercise is Medicine'. This strives to implement collaborations with healthcare providers and counsel patients on the effectiveness of physical activity leading to sustained behaviour change.
Like medicine, exercise is prescribed, in a specific dosage and formulation to each individual's clinical diagnosis. For some clients, the prescription must be very specific regarding exercise modality, intensity, frequency, and duration. Qualified as a Level 4 BACPR exercise professional, Georgia will provide you with a safe, personalised clinical exercise programme that best meets your requirements.
The foundations of Georgia's clinical working philosophy is built on the 5 aspects of holistic health being physical, emotional, mental, social and spiritual. Taking a holistic approach to clinical exercise is essential to address the leading cause of the problem rather than just the symptoms. It is about honouring the mind-body connection by treating the whole person. She empowers her clients with the education and motivation to make better choices and to take charge of their health and wellbeing.
The myriad of health benefits of exercise is widely researched and documented, yet little is done within the health and medical setting to action this. Georgia hopes Ten Clinical can change this.
An advocate for continual learning, Georgia is continually looking to improve her knowledge and expertise to ensure she can provide the highest level of clinical care to her clients. You'll come away from your sessions not only moving better and with more confidence, but believing your goals to be challenging but most definitely achievable.
Always striving to push herself, Georgia has also competed nationally in Kickboxing, where she won the National Intermediate Lightweight category in 2019 whilst also studying for her Black Belt.