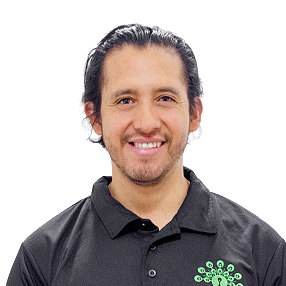 "Don't wait for the perfect conditions or you'll never achieve anything"
Bio:
A passionate sports fan from a young age, Gonzalo has become a fitness enthusiast over the years. His professional track record combines a holistic approach to health and fitness with a focus on both cardiovascular fitness and muscular strength.
Gonzalo is trained on everything from nutrition and back pain management to HiiT and TRX. He is an adaptable, energetic, friendly instructor and is focused on helping people to achieve those all-important results.
As an accomplished and experienced fitness instructor, Gonzalo has developed a wide range of skills to share, and to help him meet the expectations of clients looking for specialist skills across a variety of areas, including weight loss, muscle tone, strength & conditioning, nutritional guidance, postural analysis, core training for back care and injury prevention.
Gonzalo enjoys teaching a variety of group exercise sessions, including TRX, HIIT, Kettle-bells, Functional training, Circuits, and Bootcamps.
Originally from Ecuador, Gonzalo likes to spend his free time dancing, football, volleyball, reading and (unsurprising for a diehard people-person) socialising.