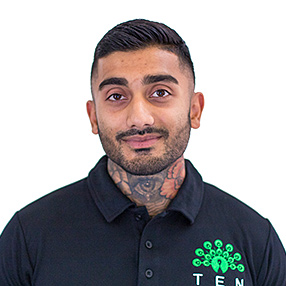 "For every action, there is an equal and opposite reaction"
Qualifications:
Ten Academy
Dynamic Reformer Pilates
Sports Therapy (BSc)
British Weightlifting Coach (Level. 1)
Favourite Exercise:
Overhead Squat
Oblique Pike
The Stag
Bio:
Having completed a BSc in Sports Therapy, Gurdev is now in the process of completing an MSc at St Mary's Twickenham in Strength and Conditioning, so it's no surprise that he is able to call upon a breadth of knowledge and range of coaching methods in order to help people achieve better mobility.
Having previously worked with a multitude of athletes in the disciplines of Track and Field, Football, American Football and Rugby, he's no stranger to performance enhancement and it's also extremely important that he is able to ensure his clients reach their goals.
His interest in Pilates stems from its connection to the central nervous system, which controls the body's movement. Gurdev has found that by incorporating a range of equipment, including the Reformer, into traditional Pilates exercises, he can teach his clients to create, embed and maintain better patterns of movement. This means that he can enable them to achieve their fitness goals whilst reducing unnecessary strain on the body, and helping them avoid injury or discomfort.
When it comes to his own body, he has always had a keen interest in contact sports such as Boxing and Muay Thai, and he's recently started training in the discipline of Brazilian Jiu-Jitsu under multiple world champion, Braulio Estima.
Gurdev admires Braulio as a great master of the sport, who has helped him to focus both his body and mind using similar principles to the ones that underpin Pilates.
It's these principles that have helped him improve his own ability to control his body during movement, from the core and trunk through to the extremities, even under fatigue. He is now able to understand how to control his body from proximal to distal aspect. And he enjoys nothing more than transferring this knowledge to his clients.