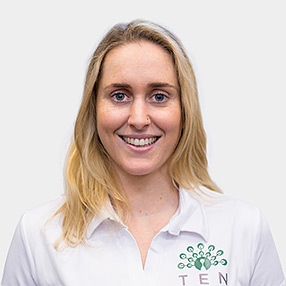 Qualifications:
HCPC
CSP
Bachelor of Physiotherapy (University of Otago, New Zealand)
Postgraduate Diploma in Sport and Exercise Medicine (University of Otago, New Zealand)
Dry Needling
Favourite things to treat:
Shoulders, knees, pelvis and lower back
Sports injuries
Pre- and post-surgical rehabilitation.
Bio:
Registered with the Health and Care Professions Council.
Holly graduated from the University of Otago in 2013 and then moved straight into private practice physiotherapy at a clinic in her hometown of Christchurch, New Zealand. Alongside her work in the clinic she had the opportunity to work as team physiotherapist for the regional men's ice hockey team, which gained her valuable experience working with athletes and dealing with full-contact sports injuries.
Following some time off for travel, Holly then worked at a multi-disciplinary clinic in Christchurch which involved working alongside other physiotherapists, doctors, nurses, podiatrists and a massage therapist. This clinic was affiliated with Christchurch netball which also allowed Holly to work in the acute sports injury setting dealing with high patient numbers and helping them to get back on the court as soon as possible.
Throughout her time working as a physiotherapist Holly also completed a Postgraduate Diploma in Sports and Exercise Medicine through the University of Otago. She continues to stay up to date with current evidence-based practice, and likes to use a combination of manual therapy, dry needling and exercise prescription in the treatment of injuries. She has also recently qualified as a yoga instructor and has an interest in both yoga and pilates as adjuncts to rehabilitation.
Holly believes in an active approach to recovery, and likes to ensure her patients are not out of action for too long as a result of injury. Whether it is getting back to competitive sport or just maintaining a healthy lifestyle without limitations, patient goals are of top priority.
Holly arrived in London in January 2020 and is looking forward to exploring the UK and Europe, when she's not working she enjoys running, hiking, skiing, yoga and getting outdoors as much as possible.