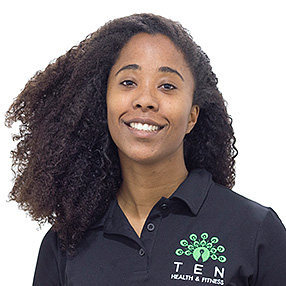 " You don't have to be great to start, but you have to start in order to be great!"
Qualifications:
Sports Therapy Degree BSc (Hons)
NVQ Diploma in Leisure Management Level 3
Access to Sport and Exercise Science Level 3
Gym Instructing and Circuit training Level 2
Pre/ Post Natal Certification Level 3
Certificate in Fitness Instructing Exercise to Music Level 2
TRX Suspension Training & Rip Training Level 1
IOSH Work Safety – Health and Safety Training
GP Exercise Referral Level 3
Lower Back Pain Level 4
Classes:
Favourite Exercise:
Reverse Carriage ice-breaker
Bio:
Isaura started young – she has been a competitive athlete since childhood.
She has always enjoyed training hard and seeing the benefits that her hard work brought. And after 8 years' athletic training for 100m and 400m hurdles, it seemed natural to gravitate towards the study of sports. At University, Isuara realised that as much as she loved athletics, a career in the industry was not for her, instead she discovered a passion for the study of rehabilitation and movement.
Initially Isaura's desire for a career in fitness was driven by her competitive background and eagerness to develop a deeper understanding of how the body works in order to get stronger, faster and, ultimately, to win. But over time, her growing interest in rehabilitation led her to go on to study Sports Therapy, combining strength and muscle conditioning with therapeutic movement.
Isaura discovered Pilates at a time when her confidence and self-esteem were at a low. In need of a distraction and a challenge to help her address some unexpected health issues and to regain mental and physical strength, she discovered that Pilates bridged the gap between athletic conditioning and healthy movement, enabling her to challenge her body physically without hindering the recovery process. She quickly found that developing a deeper understanding for body awareness and Pilates methodology also had significant stress-reduction benefits, creating a feeling of mental euphoria and physical strength all in one.
In her free time, Isaura loves the theatre. And whilst she remains a diehard Pilates devotee, she still loves to train in the fresh air whenever she can; whether she's hiking up mountains in Bali, snorkelling in Mexico, kayaking in Canada or simply cycling through London, she enjoys the stimulation of the constantly changing scenery.