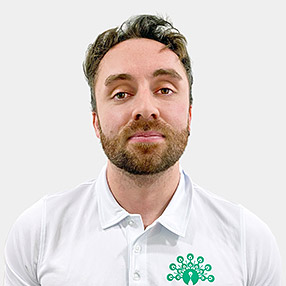 Qualifications:
BTEC Level 5 soft tissue therapy – NLSSM
Deep tissue
MET
STR
Cupping
KT Taping
Member of the SMA
Favourite things to treat:
Hamstring, quads and the upper back.
Jake knows that finding the right balance with the right therapist is key. He is keen to decrease pain, treat the whole body holistically, help restore optimal function and help to promote an all-round healthier lifestyle.
Coming from a very active and sporty background – from playing football and running the Berlin Marathon to playing semi-professional rugby – Jake's interest in massage therapy stemmed from his own experiences of being treated by physios and sports therapists. This first-hand experience gave him an awareness and interest in the benefits of manual therapy, and ways we can optimise recovery.
Fortunate enough to spend some time working with Wycombe Wanders football club and London Irish rugby club, Jake's practice has seen many rugby players, football players, and fellow marathon runners, but he also enjoys treating non-athletes suffering with pain due to postural issues or everyday life stress.
Since graduating, he keeps up to date with his professional development by taking registered courses in KT taping, cupping and continuously reading the latest research in soft tissue therapy and the industry.
In his free time, Jake can be found coaching, playing with his local rugby team, and staying active through weight-training and running.