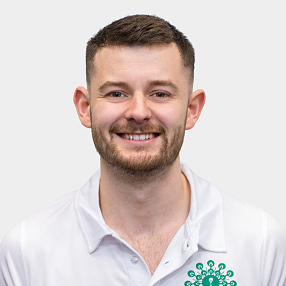 Qualifications:
Bachelor of Health Science (Physiotherapy) – Auckland University of Technology
HCPC registered
Member of CSP
Certificate in Strength and Conditioning – Foundation course
Favourite things to treat:
The spine, shoulders, andknees, sports injuries, gym-based rehabilitation and any pre and post-operative rehabilitation.
Bio:
Born in the UK, James moved to New Zealand with his family in 2006 where he completed secondary school and University – the country's outdoor and sporty lifestyle playing a big role in his choice of physiotherapy as a career.
James graduated in 2016 from Auckland University of Technology. While an undergrad James volunteered with a local rugby club as a physio assistant, helping with side-line management before becoming the team's physiotherapist after graduating. During this time James also worked as a musculoskeletal physiotherapist in the private setting in Auckland, where he treated a wide variety of musculoskeletal conditions and injuries.
James made his return to the UK in 2018 and has continued to work in the private setting since then, in various locations in the City.
James believes in a combined and holistic physiotherapy approach to treating his clients, using a combination of hands-on techniques, joint mobilisations, exercise prescription and rehabilitation to help his clients reach – and wherever possible, exceed their goals.
James has recently completed his foundation course in Strength and Conditioning and loves any opportunity to utilise this knowledge in his rehab plans.
Outside the treatment room, James is a very active person and enjoys most sports, particularly boxing, weightlifting and calisthenics in the gym, or out on the turf playing rugby union as well as both tag and touch rugby. He also likes to explore the outdoors, as well as working on his mindfulness with yin yoga.