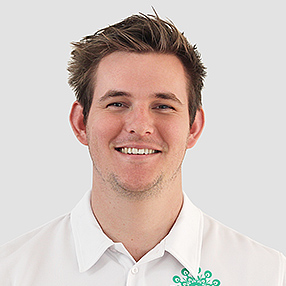 Qualifications:
HCPC
MCSP
Bachelor Physiotherapy – Australian Catholic University, Queensland, Australia
Strength & Conditioning Coach (ASCA)
Favorite Things to Treat:
Knee/Ankle pain, Post operative rehabilitation, Football injury treatment/prevention, Gym/weightlifting related injuries
Bio:
Jayden graduated from the Australian Catholic University in 2013 and spent the following two years working in a sports and musculoskeletal clinic in Brisbane, gaining valuable experience treating a wide range of musculoskeletal conditions and helping a number of elite sporting patients return to full fitness and function. He relocated to London in 2016 specifically to join the TenPhysio team.
With particular interest in treating knee and ankle injuries and in post-operative rehabilitation, Jayden believes in a hands-on approach to Physiotherapy. He uses a variety of treatment options including trigger point release, joint mobilisation, taping and exercise based rehabilitation. He has also obtained post-graduate qualifications in dry needling to enable him to offer his patients all possible avenues to achieve quick and lasting results.
Jayden enjoys helping his sporting clients return to their chosen sport as quickly as possible, and is used to working closely with coaches and personal trainers to allow training to continue during the treatment stages whenever feasible.
A keen sportsman himself, Jayden has a particular passion for football – he has played for the past 19 years in Australia.