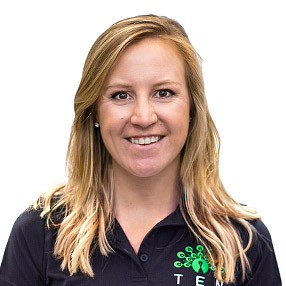 "The greatest wealth is health"
Qualifications:
Bachelor of Physiotherapy (University of Pretoria)
HCPC, MCSP
HPCSA: Health Professions Council of South Africa
OMT1: Orthopaedic Manual Therapy (South Africa)
SPT1: Sports Physiotherapy (South Africa)
Dry Needling
TenAcademy Dynamic Reformer Pilates
Classes:
Favourite Exercise:
Pike and Oblique Pike series
Bio:
Jemma holds a degree in Physiotherapy from the University of Pretoria in South Africa. She was first introduced to Pilates during her undergraduate studies.
As a practicing Physiotherapist and Trainer at Ten she recognises the significance of functional strength and core stability in treating and preventing injuries. She chose to complete Ten's Dynamic Reformer Pilates Academy in order to further her expertise in helping others to move and control their bodies better.
Jemma is very athletic and has participated in most sports from childhood. She currently competes in endurance sports such as road cycling, mountain biking and triathlons. Her active involvement in dynamic sporting environment perfectly equips her to understand the physical demands related to exercise, and has given her more extensive personal experience than she'd really like of the impact that pain and injury has on quality of life.
Jemma loves to get people moving and firmly believes that Reformer Pilates is a brilliant form of exercise for all fitness levels.
Her classes are aimed at empowering both the body and the mind, and challenging you to become a stronger and more rejuvenated version of yourself. Her feel-good music and infectious energy will leave you walking out with a big smile on your face.
When she's not teaching classes or treating clients, Jemma spends her free time getting in touch with her artsy side by sketching and painting and loves reading autobiographies on sporting celebrities and adventurers.