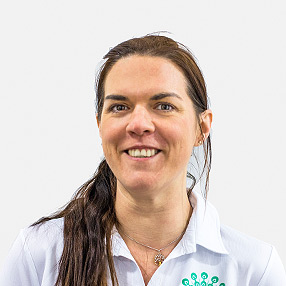 Qualifications:
MSc Physiotherapy
BSc Acupuncture
APPI Pilates Matwork Level 1
Shiatsu Massage Diploma
Favourite things to treat:
Any musculoskeletal problems! If I have to pick a favourite area to treat it would be hip/pelvis.
Bio:
Jenny grew up as a keen gymnast and dancer, but struggled to continue after sustaining a stubborn hamstring injury in her teens. Whilst this limited her ability to exercise, it massively increased her interest in understanding the body, and in injury rehabilitation.
She started practicing Pilates and Yoga aged 18, and shortly afterwards went on to study shiatsu massage and acupuncture part time.
However, with a passion for treating musculoskeletal conditions, and developing a really solid understanding of pain, injury and rehabilitation, it became clear that taking the serious career choice and training to be a physiotherapist was the way forward.
Jenny graduated from Kings College London's MSc Physiotherapy course in 2010.
She has since worked both privately and within large NHS trusts, gaining extensive clinical experience in a wide variety of conditions. She is equally as comfortable working with sports injuries as more complex and stubborn musculoskeletal conditions, and will always take time to understand the full picture, and address all of the issues whatever the problem.
You can expect a mixture of hands on treatment, movement analysis, postural advice, training advice and exercises, as well as taping or acupuncture if that is what you need. However, whatever you do need, Jenny believes that one of the most important aspects to any treatment is that you come away from the session understanding what is causing your symptoms, what to do to get it better, and how long it will take to get you to where you need to be.
Jenny has previously taught matwork Pilates, but is happy to leave that to Ten's training team now! However, she can go over any of the fundamentals with you one to one. She has worked a lot with antenatal and postnatal musculoskeletal issues, and can see you for any pregnancy related aches and pains.
Outside the treatment room, Jenny teaches yoga-lattes privately, loves going to the gym, cooking, eating out, attempting to make her two children tidy up after themselves (she's a born optimist), and hitting the dancefloor (just not competitively these days).