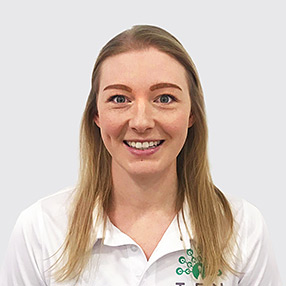 Qualifications:
HCPC
CSP
Bachelor of Physiotherapy, University of Otago, New Zealand
Dry Needling
Post-grad certificate in Vocational Rehabilitation
Favourite things to treat:
Movement/postural dysfunctions
Sports injuries
Hip and shoulder injuries
Lower back pain
Bio:
Kate graduated with a Bachelor of Physiotherapy from the University of Otago, New Zealand, in 2014, with a strong passion for sports and injuries. She then began work in a busy physiotherapy practice and boutique gym in central Wellington, New Zealand, where she started to consolidate her skills.
Over the years Kate has developed a further interest in biomechanics (that is, how the body moves). Incorporating biomechanical assessments into all of her client assessments allows her to develop a complete understanding of their current condition. This equips her with the knowledge to create a plan that not only improves the current symptoms, but also looks at long-term management strategies. This ensures that you, the client, can reach peak performance, whether you are an athlete, casual runner, or a stay-at-home mum.
Kate has sustained a variety of injuries over the years that she has managed either conservatively or progressed onto surgery. This gives her first-hand experience of how a patient might be feeling following an injury, and can empathise with the difficult times, both physically and mentally.
Kate and her husband moved to London three years ago to travel and explore the UK and Europe.